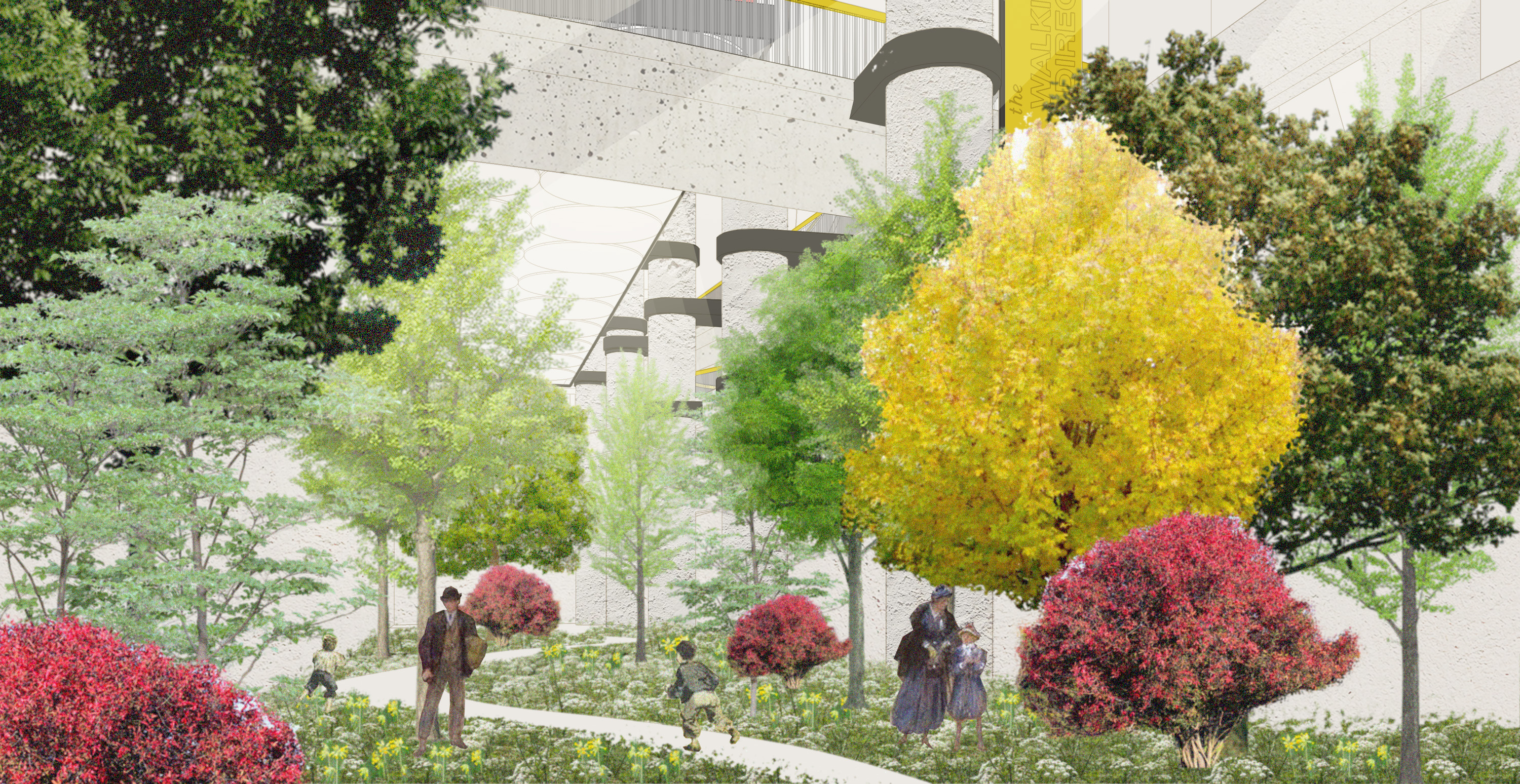 The Walking Directory

The project transforms the base of the City of London's tallest skyscraper, 22 Bishopsgate, into an open public space devoted to stimulating new ways of exploring and navigating the city by foot. At its heart is a visitor center suspended above a lush garden with soaring ramps and walkways connecting different levels. The visitor center contains an information center, exhibition space, café, and bookshop that will support events such as Sculpture in the City and Open House. Below this, sunken into the ground, is a lush garden providing calm and serenity amidst the intensity of the tangle of routes that convey people in different directions.

The main design strategy involves removing the existing glass walls of the entrance lobby to 22 Bishopsgate and allowing the city to become more porous. By reviving the London Pedway scheme, the site is connected with key destinations such as train stations and green spaces. The new netowrk extends the majority of the Square Mile and, like the original scheme, penetrates through buildings and creating an entriely new mode of urban pedestrian movement. With the City of London's massive vertical development in the past few decades, moving public spaces upwards is a logical response to the new elevated platforms of the City.

The experience of navigating through buildings on foot has become stressful and intense, inducing anxiety and other mental health problems. To counteract this urban tension, the Walking Directory provides respite and moments of calm, paired with shifting perspectives, so that the act of walking is transformed from one of stress to one of leisure and creativity. This project exaggerates the sense of movement through the city by extending desire lines, creating opportunities where people can move through spaces with contrasting atmospheres. Light and dark, wide and narrow, high and low—the Walking Directory makes pedestrians aware of their own physicality and sense of movement in and around public space.